New Investec Asset Management site
Specialist provider of investment products and services Investec Asset Management (IAM) has recently transformed their online presence with a revamped public website, investecassetmanagement.com, that powerfully reflects the image and culture of the organisation and provides their clients with improved access to a wealth of relevant information and resources.
Consultancy and development
To ensure that the new site delivers an engaging, high-performance experience in keeping with their premium brand image, IAM has worked closely with award-winning software development consultancy Box UK, who conducted an in-depth requirements gathering phase at the outset of the project.
Through a combination of stakeholder workshops, end-user interviews, and analytics, usability and competitor reviews Box UK's expert User Experience (UX) consultants assessed the current site and identified potential areas for improvement, informing the creation of a new site structure, navigation and interface that successfully balances all business and user demands.Box UK continued to support Investec Asset Management in the implementation of these new user-centred designs, in conjunction with a complete overhaul of the site's underlying architecture. Moving the site over to a lightweight and flexible web application framework, Box UK's team of expert developers have provided IAM with the ability to effortlessly manage content while retaining the powerful, complex functionality needed to effectively serve their clients.
'Out of the ordinary'
The work undertaken by Box UK, alongside brand consultancy The Partners, has significantly streamlined key user journeys across Investec Asset Management's site and simplified the presentation of key information including fund pricing, investor literature and thought leadership, while a dramatically different look and feel conveys core brand messaging and introduces the organisation's personality.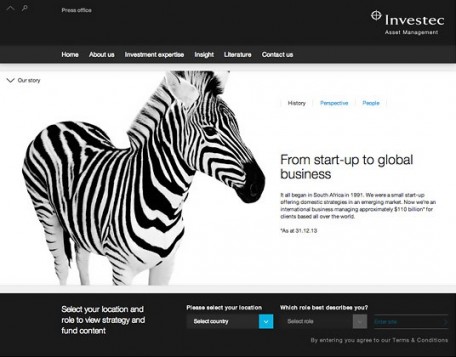 As a result, the new site reinforces Investec Asset Management's commitment to being 'out of the ordinary' and differentiates the brand from its competitors by providing a highly effective communication channel that enables the delivery of tailored, relevant experiences to help clients make informed investment decisions.
With the client-facing site a central component in their content-driven engagement strategy, Investec Asset Management has also been provided with a solid foundation for future expansion and diversification, to ensure the organisation remains an industry leader in the online space.
Celebrating a successful launch
Speaking about the launch Box UK's Managing Director Benno Wasserstein said: "We're incredibly proud of the results of our work with Investec Asset Management and The Partners; throughout the project we've been able to apply specialist expertise and insight built up over many years working with leading financial institutions, culminating in the release of this outstanding product. We look forward to seeing the public's response to the site's new functionality and appearance, and will continue to work closely with IAM to further enhance the online experience for their clients."
———
About Investec Asset Management
Investec Asset Management is a specialist provider of active investment products and services. Established in South Africa in 1991, the firm has been built from a small start-up into an international business. Their clients include some of the world's largest private and public sector pension funds and range from foundations and central banks to intermediated and direct investors.
About Box UK
Box UK is a team of thought leaders, consultants and application developers engaged in the rapid and precise design and delivery of high-performance software products and services for progressive enterprises worldwide. Established in 1998, Box UK's client list includes BBC, LAN Airlines, Investec Asset Management, the National Gallery, Chartered Institute for IT, and EDF Energy.