What a difference a day makes
Here at Box UK we're always keen to provide value to a client's project, no matter what stage they're at, or how involved they want us to be. A great example of this took place recently when Tom Evans (another User Experience consultant here at Box UK) and I were asked by a new client to deliver one day's User Experience (UX) consultancy.
For client confidentiality, names can't be dropped at this stage, but suffice to say this was a prestigious offshore investment company with a suitable number of zeroes after their assets. Their internal development team had put together a mock-up of a mobile app and wanted our feedback on mobile use interface best practices, and any UX recommendations we might have to improve their end user experience.
Pragmatic User Centred Design (UCD)
We'd only have one working day onsite to make a difference, so we knew we'd have to:
get our head around their domain quickly
be pragmatic about the User-Centred Design approach we took
get buy-in from the client's development team
deliver UX assets on the day that they could then design and/or build from immediately
To hit the deck sprinting, we spent a day prior to the meeting:
reviewing the insights from an earlier discovery workshop, which included identifying the user types
reviewing the proposed mobile app interface
mapping out the proposed Information Architecture (i.e. the structure) of the app
carrying out competitor research in order to identify any possible issues/talking points
compiling a list of best practice observations taken from the finance industry and other sectors. (These proved to be invaluable in validating our design decisions i.e.; the Financial Times decision to ditch native mobile apps in favour of HTML5)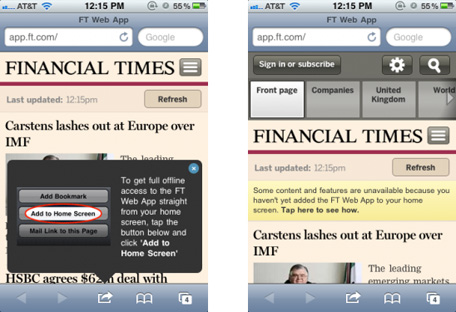 Structuring the day
AM:  Information Architecture (IA) review – run by myself
PM:  User Interface sketchboarding – run by Tom
The decision as to who would run each session came down to who was most specialised in that discipline and able to make best of use of the time, while giving the other a chance to observe and write up ideas. While we're both comfortable in either discipline, I come from more of an IA background, having worked on lots of content-heavy projects with complex data structures. Meanwhile, Tom is vastly experienced at facilitating collaborative sketching workshops with clients.
AM: Information Architecture review
The purpose of the IA session was to think about the underlying structure of the app, without the distraction of the interface design. Having reviewed the app before the meeting, I could see that some of the key journeys were unnecessarily complex, and could be rationalised to make the end user experience more intuitive. As such, I needed to:
talk through the users' needs, motivations and constraints (i.e. the devices they would be using)
focus the developers on the user requirements, as well as the business requirements
define the optimum user journeys through the app
map the user journeys into a suitable Information Architecture for the app
Given we only had a couple of hours to do all this, we used the meeting room wall to map out the structure from scratch, using nothing more than post it notes and marker pens. During the afternoon session I then digitised this for them.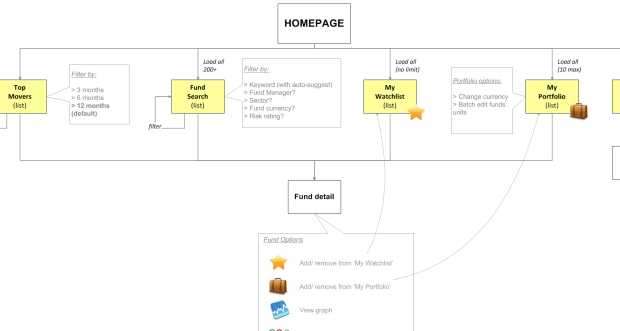 This low-fidelity approach worked fantastically as it was quick, easy to edit, and very visible. With the IA agreed by everybody, and in plain view for all to see, we moved into the afternoon session.
PM: User Interface sketchboarding
Sketchboarding is well established internally, so we knew this would be the right approach to take, given the timescales involved and the fact that we had the developers there with us. Getting them sketching was important to get buy-in as they'd be developing the app, so we were all involved in:
agreeing on the inputs for each page (i.e.; content and actions) as this would help us each design the page,  and prioritise the visual hierarchy
sketching rough ideas for key pages, using the IA agreed in the morning session (using the "6-up technique", whereby each person sketches several ideas in a time limit)
collectively assessing each sketch, taking the best ideas from each
sketching out a single idea each for the page (using the "1-up technique" whereby each person sketches their final optimum idea in a time limit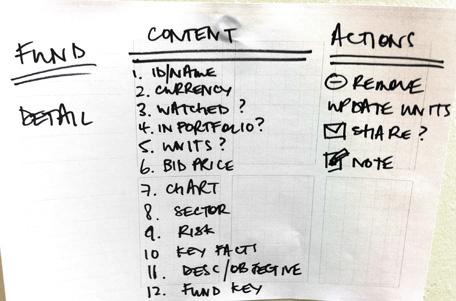 From these "1-up" final sketches, Tom sketched out a proposed interface for each key page, based on the best ideas we had all agreed on. This gave the developers page layouts from which to work from immediately, including the visual hierarchy of content, and user interface recommendations for form elements and navigation menus.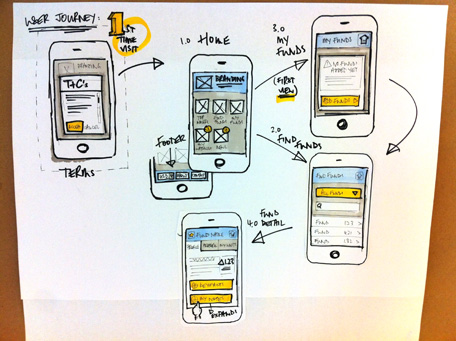 Making a big difference
The developers were openly pleased with the day, with one commenting they had never spent so much time thinking about users. The project manager also followed this up several days later to say the team thought it was "one of the best workshops they had been involved with". Certainly from our perspective, the enthusiasm, friendliness and technical knowledge shown by their team, made the day enjoyable as well as productive.
It was great to remind ourselves that even if we only have a couple of days with clients, our user-centred design process quickly produces results. The assets we produced in the sessions were low-fidelity, quickly iterated and collectively agreed upon. With the user interfaces sketched and digitised, our client's development team were able to take our recommendations that afternoon to take away and implement; making a big difference to the project within hours.
To find out more about how Box UK can help you improve the user experience of your digital products and services, visit the UX & Design section of our site.