Thinking outside the branch
Digital channels are changing the way the finance industry does business. Advancing capabilities coupled with high levels of convenience have made these channels incredibly popular with individuals looking to manage their money, and this popularity will only increase as more and more 'millennials' become banking customers. A recent survey of this generation (born between 1981 and 2000) found that more than two-thirds believe the way we access money and pay for things will be totally different within five years, and for these digital natives "banking is not somewhere you go, but something you do" (to quote industry commentator Brett King).
It's clear then that financial institutions will need to evolve if they want to remain relevant in this new environment, including updating the role physical touchpoints play as information and services continue to move online. In this blog post I'll look at some of the approaches being taken to embed digital technologies into the real-world landscape, exploring how they are used to complement and enhance more traditional spaces and activities as part of an integrated multi-channel network.
"Put it on my phone…"
The concept of online banking is well-established, but with smartphones and tablets now offering constant connectivity the opportunity to complete digital transactions has extended far beyond the desktop, with research estimating that over 1 billion people will have used their device for banking purposes by 2017. In the past financial institutions have responded to this trend by creating mobile-optimised sites that enable customers to find information on branch locations and opening times, but this is no longer enough to satisfy an 'always on' audience. The complex functionality supported by today's devices coupled with new mobile browsing behaviours enabled by the rise of tablet computers has led individuals to expect to be able to complete critical banking tasks whenever and wherever they want to.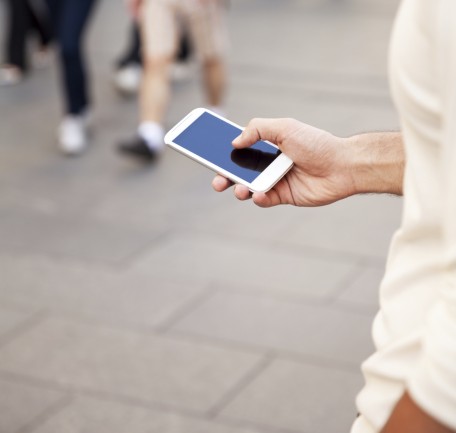 As a result we've seen banks start to create sophisticated Personal Finance Management (PFM) applications specifically for mobile devices; traditionally restricted to desktop internet banking, these tools allow users to analyse their finances in detail and in some cases even take action to improve the way they handle their money. Within the physical world mobile has an additional part to play, as frictionless payment, mobile money transfer and remote deposit capture technologies turn users' phones into virtual wallets capable of making payments to vendors, peers and financial institutions directly from the device.
Remote control
Digital is also making its presence felt among audiences and economies that rely heavily on cash transactions. In these markets progressive financial institutions are employing 'smart' ATMs and kiosks to deliver remote access to key services without the need for a fully-staffed branch. Facilitating a wide range of tasks including making deposits, paying household bills and topping up mobile phones, these channels provide the flexibility and ease-of-use demanded by today's banking customers, while retaining much of the value offered by branches.
It is important to note though that to encourage take-up of mobile and remote channels you must ensure that tasks can be completed quickly, simply and independently; the key journeys should therefore be carefully crafted to 'nudge' the user towards the right action at every stage. Ideally any design concepts should also be tested with representative users, as although you may be familiar with the required steps and outcomes it's likely that your users won't be, making getting real-world feedback critical to safeguarding the success of your digital initiatives. (If you want to find out more about how these kind of applications can be tested, take a look at our case study on conducting usability testing for TBC Bank's Banking Kiosk.)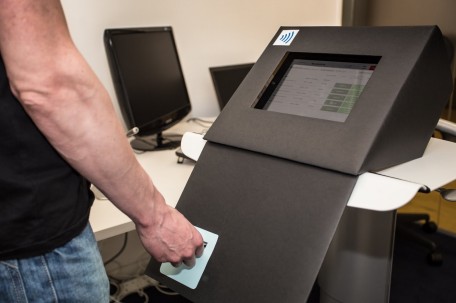 Man/machine
Of course, just because there is high demand for new ways of banking doesn't mean that some people won't still want access to traditional branch services. Many individuals, especially those in older generations, are still uncomfortable with using digital channels, there remain concerns for everyone regarding security (which you can read more about in this blog post), and sometimes you just can't beat the expertise of a real-live person. Digital technologies can, however, be used in these situations too, to enhance the user experience as well as deliver cost savings for financial institutions themselves.
Digital can be applied to branches in many varied ways, from allowing customers to make an in-branch appointment with an adviser using their mobile phone to providing interactive advice areas that help people find the service they require without staff assistance. Additionally, as people become more accustomed to this kind of functionality the potential of digital technologies becomes even greater; we may in future see a fully self-service branch with only a skeleton staff required to maintain the premises and support customers in using the technology.
Embracing the new
The advantages of the financial industry embracing new digital channels are clear: customers are empowered to manage their finances as and when required, while institutions reap the benefits of cost savings and efficiencies. However it is vital that people are provided with a choice regarding how they bank, meaning that for now at least there's still a place for the physical, even though it is now just one of a multitude of touchpoints available (or as analyst Bart Nater puts in, "the branch is banking's new alternative channel"). What's most important is that all channels you employ to deliver services work together harmoniously, leveraging one another's strengths to provide the best possible experience, and one that transcends technologies.
Want to find out more about how financial institutions can continue to thrive in the digital age? Download our guide to "Digital Transformation in Finance".