#NHSHD
This weekend a team of developers from Box UK (Max Woolf, Gareth Rees, Owain Lewis, and myself) took part in a NHS hack weekend (#nhshd); an event that brought together developers, medical professionals and more to create useful products for the healthcare sector. After having had hackdays in London, Oxford and Cambridge, it was now the turn of Cardiff, with the event held in Cardiff University's sparkling, brand-new Hadyn Ellis building and organised by the super Anne-Marie Cunningham.
"Clever Early Warning System"
Going into the weekend the team had a few ideas of what we thought could make a good product, but as none of us are medically trained we wanted to hear what clinicians really needed to make their everyday work easier. When we turned up on Saturday morning we were blown away by the vast array of ideas from individuals ranging from medical students and doctors to cyclists, all needing developers to help bring their ideas into reality. There was one particular 16-year-old girl called Neena who had created a product called "Clever Early Warning System" (CLEWS) and who we chose to help, along with other local developers Mark Turner and Graeme Porteous.
Neena had taken part in Young Rewired State earlier this year, and is a great example of the positive difference young people can make to the coding community. She had already done fantastic work on this project by bringing together data from vital signs machines into a web application to automatically generate an Early Warning Score (EWS); this was some really impressive work and certainly the hardest part of the development. She was at the Hack Day with her dad who was a surgeon, and we learned how these scores are used to help ward clinicians decide how often they should be monitoring patients.
Despite all this brilliant work that been achieved so far, Neena also had a great vision of what the product could become and she needed Ruby on Rails developers to help her. So we lent her our expertise and got coding.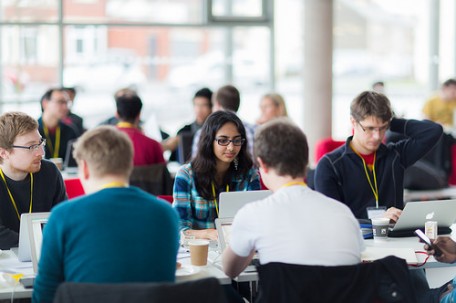 Image credit: Paul Clarke
By the end of the weekend we had created a ward task list that automatically created a list of patients that needed monitoring in the next round of visits, a system that alerted specialist doctors when a patient's EWS was too high, and an iPhone app that produced the patient's graphs of vital signs after scanning the barcode on their wristband.
"Biggest impact for clinicians" winners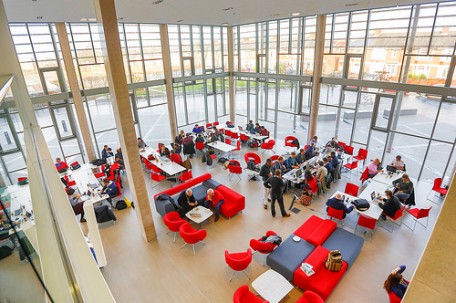 Image credit: Paul Clarke
On Sunday afternoon, all 12 projects that had been created over the weekend were demoed to all the teams and judges. Neena and Max demoed our work, and after the unenvious job of having to decide between all the entries, the judges presented us with the "Biggest impact for clinicians" award.
It was brilliant to see that so many ideas that had been pitched early on Saturday from people who had no developer skills had been made into production-ready solutions by Sunday afternoon. Ultimately hack weekends are everything I enjoy about programming squeezed into one adrenaline-filled weekend, with the bonus of making a difference in society.
Special thanks should be made to Anne-Marie Cunningham who organised an excellent weekend, all the judges (John Greenaway from Cardiff University wrote this review) and the other teams who made some brilliant projects.