On Thursday 3rd December 2020, I was very pleased to host an online discussion exploring the role of WordPress in the enterprise, featuring a great line-up of panellists that have extensive combined experience of working with the Content Management System (CMS):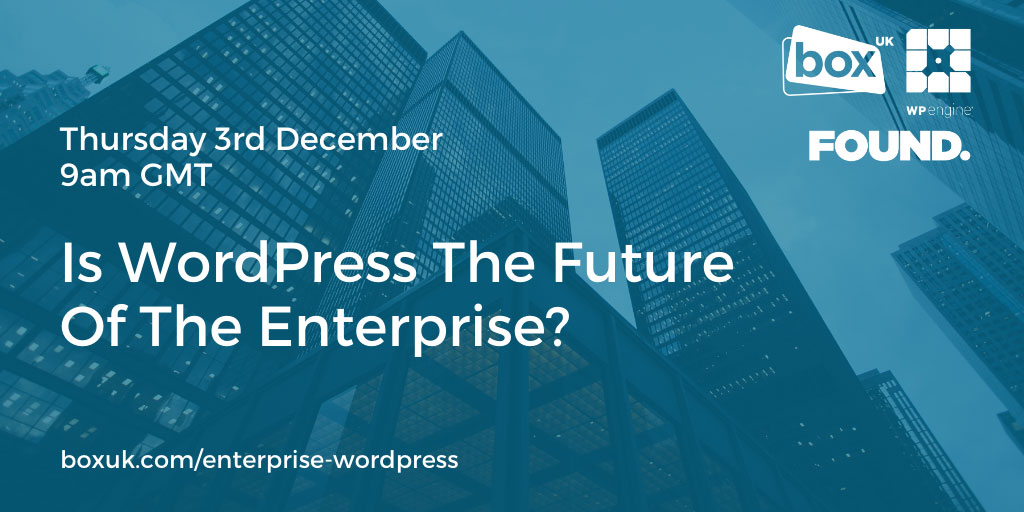 The recording is now available to watch online or, if you'd like to quickly catch up with the discussion we had, I've pulled out some key themes and takeaways below – particularly useful if you're considering whether WordPress might have a place in your own digital ecosystem.
WordPress in the enterprise

The session began with a summary of WP Engine's research report, 'The Rise Of Multi-CMS, WordPress, And Headless In The Enterprise' – a review of how large-scale organisations are using WordPress (and how this has changed over recent years). There was plenty of interesting insight, but James touched on a couple of key areas in particular:
How the enterprise uses CMS
The headline here was that the popularity of WordPress in the enterprise is on the rise. The CMS is used by 66% of survey respondents – second only to Adobe Experience Manager on 68% – and has had the biggest growth in use, jumping 16% from 2017 to 2019. Security and Return on Investment (ROI) are the key drivers of this popularity, with 31% of those surveyed citing ROI as a major benefit of WordPress, compared to 20% for other content management systems on average.
The multi-CMS approach
WP Engine's research also revealed that utilisation of multiple content management systems is growing increasingly common, with 60% of respondents using more than one CMS (compared to 53% in 2017). This is where WordPress comes into its own, as the leading platform for secondary CMS (jumping 8% in two years) as well as taking second place for primary CMS. The most commonly-cited benefits of this setup are increased agility, ease-of-use and faster time to market, helping enterprise organisations experiment with different products, offerings and markets more easily.
The rise of headless
The final piece James focused on was how enterprise organisations feel about a headless CMS approach which decouples back-end content management from front-end delivery (do read our introductory post on the subject if you want to learn more about headless).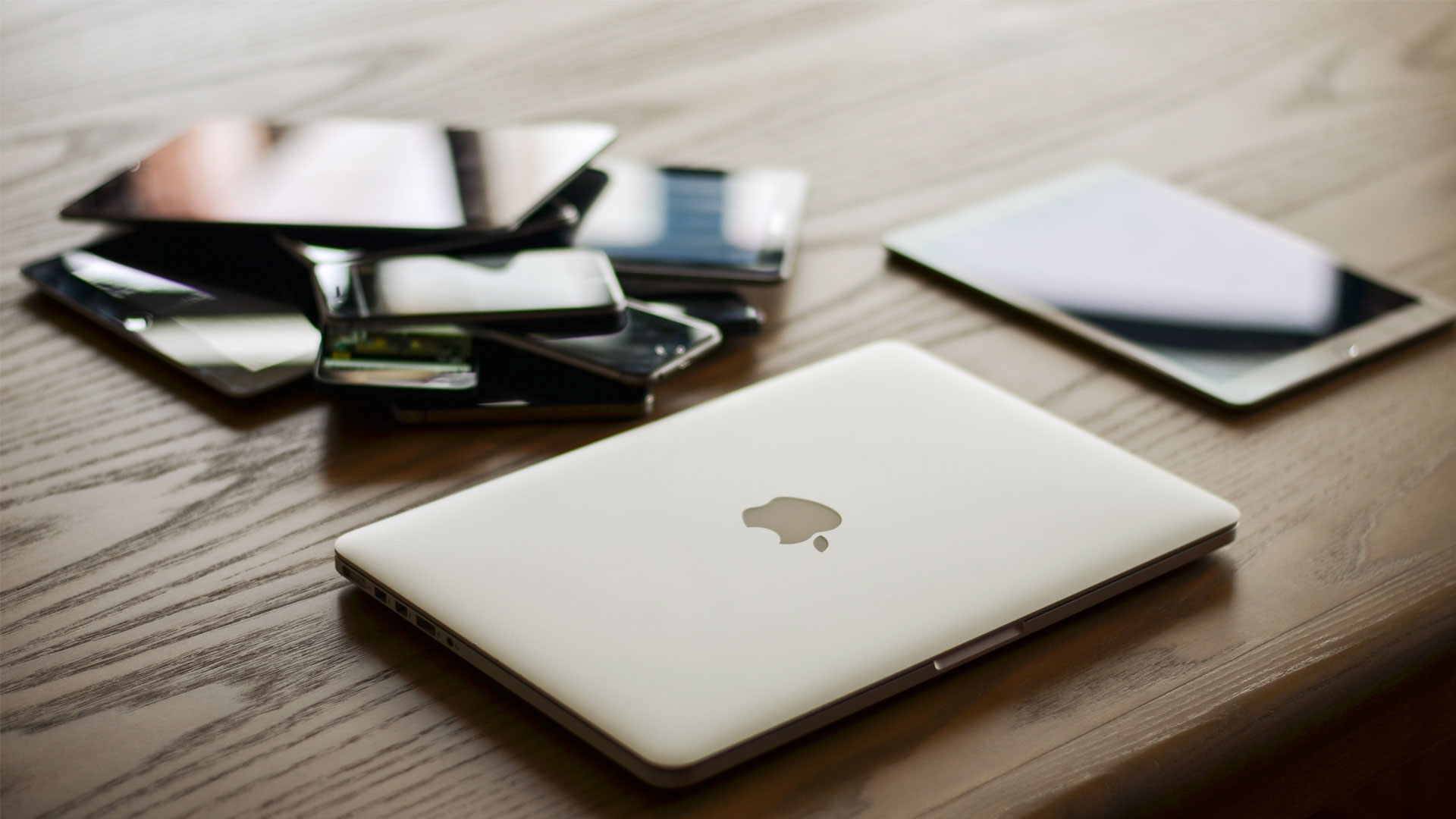 It's clear that for enterprises headless is already here, with 53% of respondents already using the approach and 80% of those that aren't planning to evaluate it. Again, agility, performance and return on investment are the primary reasons behind headless adoption – the same reasons cited for choosing WordPress – and WordPress is again the leader in the secondary CMS market for this purpose.
Adding to your tech stack
With such a strong argument being made for WordPress in the enterprise we then heard from Allie Brock – a Product Owner here at Box UK – about how to work with the platform in practice, based on her experiences delivering multiple WordPress projects. Key points here included:
Time to market
As James had previously mentioned, this is a crucial driver for organisations and it's something Allie was particularly impressed with when she first began working with WordPress and found she could build, test and demo features within a single sprint, and produce walking skeletons in just a few weeks. Time to market is further supported by the availability of themes and tens of thousands of plugins that allow teams to rapidly enhance the platform in a cost-effective way.
Budget
On the subject of plugins, Allie also highlighted how WordPress can reduce Total Cost of Ownership (TCO) by minimising the percentage of budget invested into licencing – which as James pointed out, allows for greater investment in other areas of the project or wider strategy. The popularity of WordPress and its open source nature also helps reduce TCO, as there is an extensive talent pool as well as resources to help flatten the learning curve.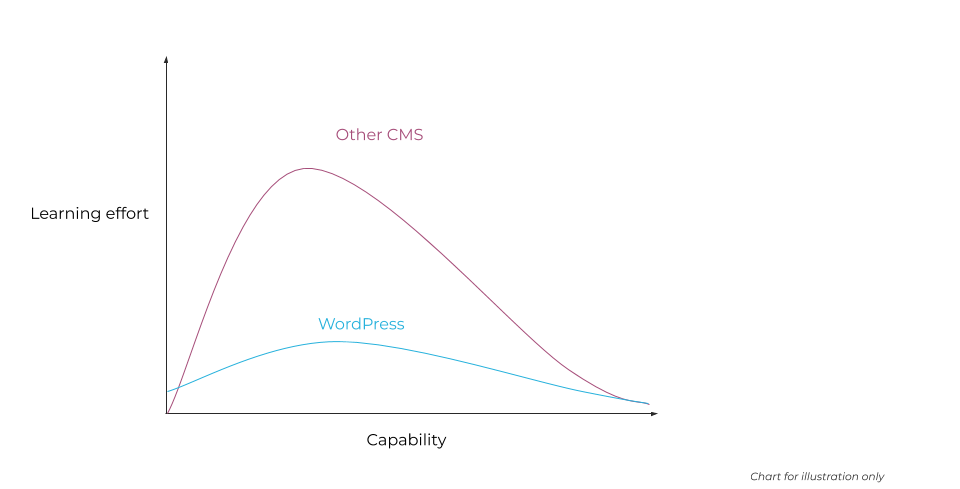 Security and scalability
These have always been high priority requirements for the clients Allie has worked with, and WordPress has really delivered – passing strict infosec reviews and penetration tests, and supporting global digital platforms without issue. Indeed, the projects Allie has worked on for OKdo and RS Components represent some of the largest instances of WordPress and WooCommerce (WordPress' enterprise ecommerce plugin) out there, providing customers with access to up to 50,000 different products.
Allie also highlighted how by enabling rapid feature development, WordPress also helps facilitate continuous improvement and innovation, citing a recent project for OKdo to promote Black Friday. The work done has not only helped drive huge results for the client (they saw a 600% increase in traffic, and 2,000% increase in revenue) but the components are built in a way that's reusable, and so can support future campaigns.
'The Anfield Approach'
It may have looked like this point was from a different presentation, but as Allie explained the 'Anfield approach' is a great way to migrate to a new platform without losing revenue or causing disruption. Box UK Principal Developer Ian Jenkins has spoken in detail about this approach previously, so if you're interested in learning more please check out the webinar recording.
Customisation
Although WordPress includes many themes and other tools out of the box, for the enterprise especially it's likely that you'll need to customise the platform and integrate it with your ecosystem in some way. Plugins can definitely help here but as Allie cautioned, they are not all created equal so be sure to conduct a thorough vetting process.
Enterprise organisations are also more likely to require multilingual capabilities so Allie explored the different options available here (something she also talked about in a previous session looking specifically at international ecommerce).
Team
Allie's final comment was about the typical team make-up on the enterprise WordPress projects she's worked on, and the key point to emphasis here was its sheer scale and diversity. Alongside an Agile team including developers, user experience and design, quality assurance, product owners and project managers, you also need to think about how you'll work with partners, third parties and internal stakeholders. Content creators too must be considered, and as Allie said WordPress is ideal for these users thanks to its intuitive backend and particularly the new block-based Gutenberg editor.
Site optimisation

Ensuring that your content, products and services can be found by your target audience is imperative, so we were pleased to be joined by Joanna Jeske, an Account Director at Search Engine Optimisation (SEO) agency Found. Joanna began by explaining the importance of SEO as the foundation of a successful digital strategy, citing the statistic that 50% of organic traffic arrives at websites via organic search.
SEO in 2021 and beyond
When it comes to making your website great from an SEO perspective as we go into 2021, Joanna highlighted three key areas:
Visibility: can search engines find and understand your content – and just as importantly, can visitors? Excellent technical implementation is key here.
Experience: when landing on your site, users should be able to convert with no difficulties, requiring that you carefully consider your navigation and key journeys.
Entity: you need to show search engines that you are an authority in your field, by providing content that users can trust.
Joanna also explained the importance of monitoring for changes to stay ahead of the competition, as Google regularly updates its algorithm which can have a knock-on effect on your rankings.
How to approach SEO when building a site
Unfortunately SEO is often seen as the last step in the website development process, by which time a great deal of money and time may have been spent only for organisations to find out that their solutions are not SEO-friendly and that significant fixes are required at a code, structure or content level. Instead, SEO should be seen as part of the site's DNA, where each stage of the process has search engine optimisation in mind. This point was confirmed by Allie, who has seen the benefits of building in SEO considerations from the earliest story mapping stages of a project.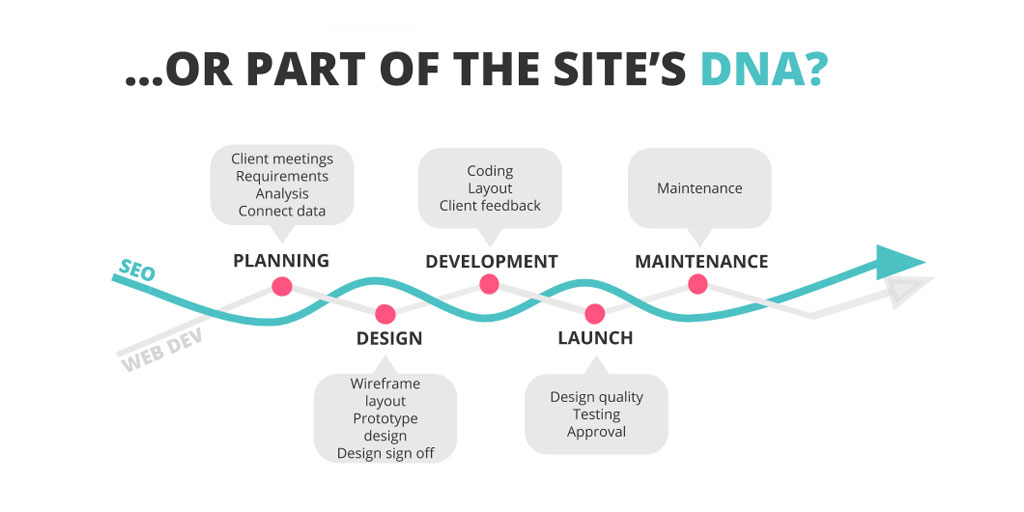 SEO and WordPress
While the importance and complexity of search engine optimisation may seem overwhelming, the good news is that there are content management systems out there that can make the whole process easier – not least WordPress, which dominates the top Google rankings, powering 45% of pages here.
Joanna explained how WordPress is almost tailor-made for SEO as:
Sites are mobile-friendly.
Your code is tidy.
It's easy to optimise meta data, schema and structured content.
Optimising images is simple.
Powerful pagespeed plugins support fast performance.
WordPress is also constantly improving to make search engine optimisation as easy as possible, with plans to introduce easier editing, enhanced customisation, greater collaboration, and core implementation for multilingual sites.
Migration
For organisations thinking about moving to WordPress, Joanna had a few final words on site migration – one of the riskiest undertakings from an SEO perspective which, if not done right, can seriously damage organic traffic. This risk can be mitigated however with good planning, again building in SEO considerations from the earliest phase. By forming a united team you can work together towards a shared goal and agreed benchmarks, putting your new site in the best possible position at the outset.
Summary
This was a hugely insightful and interesting session, and the audience on the day were certainly engaged; we explored some key topics in more detail in response to questions received, which you can catch up with via the on demand recording. For now though I'll end with the summary points I covered at the end of the presentation – and thank James, Joanna and Allie once again for their contribution:
In WP Engine's CMS report, out of the solutions on the table, WordPress posted the biggest (+16%) jump in enterprise usage from 2017 to 2019.
WordPress leads the secondary and headless CMS spaces, and comes a close second for primary CMS.
The CMS is quick to market, infinitely customisable and scalable.
The learning curve, for anyone required to use the CMS day-to-day (content editors and more) is short and simple.
WordPress is the best CMS for SEO (from 2020 analysis of the top 10 ranking sites across 10,000 keywords).
Want to learn more about WordPress in the enterprise? Watch the recording on demand, learn more about our WP Engine and WordPress VIP offerings, or get in touch to learn more about how Box UK can help you unlock the power of this popular content management system.