Tackling the challenge
The BMJ Best Practice app aims to provide students and medical practitioners with the tools they need to better understand symptoms and treatments at the point of care – and to do this effectively, information needs to be instantly accessible, anywhere it's needed. However, it's also vitally important that this information be presented in a way that supports the patient consultation process, not to mention complying with the strict regulations needed to safeguard clinical safety.
Box UK's bespoke development team therefore worked closely with our User Experience (UX) consultants throughout the project, beginning with an extensive discovery period. During this phase the product's vision and ultimate objectives were defined, alongside user profiles and stories that provided consensus on the direction and priorities of the project – providing us with a clear idea of what we were building, and why.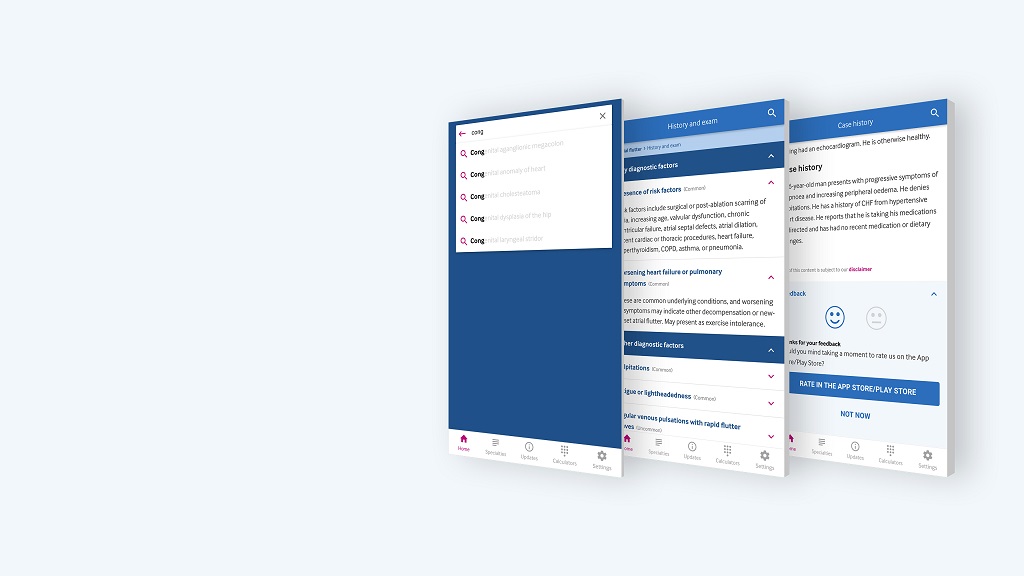 Proving the concept
Following the bespoke software consultancy phase, work began on creating a technical proof of concept to validate the more complex areas of the application. The decision was made, for example, to replace the previous navigation with a powerful search function that greatly increased the ease with which users could get directly to the information they wanted – requiring the clever use of modal overlays, concertinas and swipes to display content in a logical fashion. Our UX consultants also reviewed and refined a number of other key areas and journeys across the application, focusing on ensuring that all information was displayed in the correct order and combinations to remain clinically safe.
Building the solution
Once the concept was proven, development of the mobile application commenced. Our developers completely rebuilt the system, including its underlying data management processes, to deliver maximum levels and performance and efficiency. For example, while previously users would have to wait for the full content download of all topics (numbering over 1,000) to be completed before being able to access the specific information they needed, individual topics can now be accessed instantly online, and the time taken to download the entire app has also been reduced by 70%. This work has also significantly improved the app's offline capabilities – a necessity for many medical professionals working in facilities with numerous different WiFi hotspots.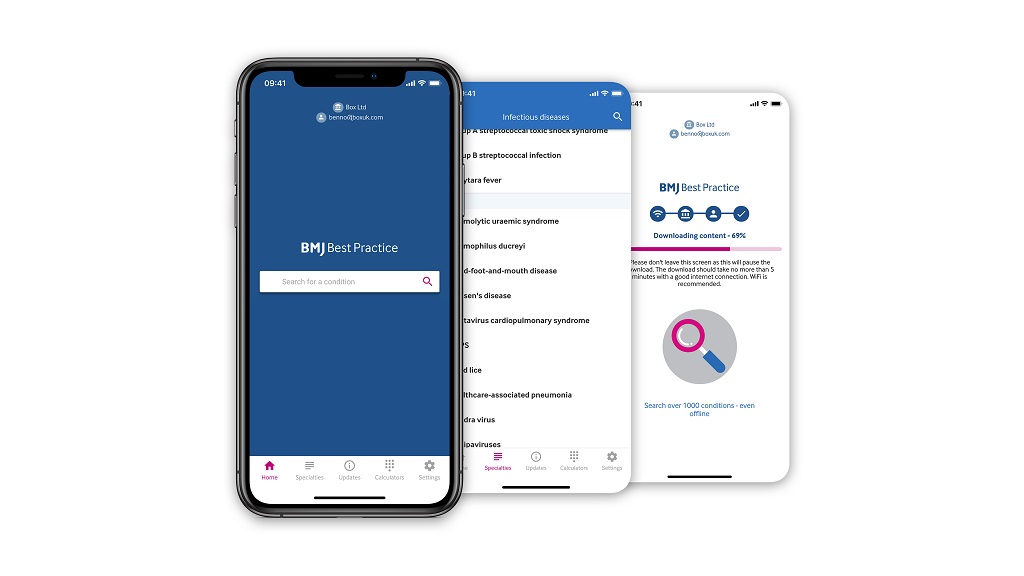 Additionally, as the app forms a core revenue stream for BMJ, care was taken to ensure high levels of performance on lower-specification devices, as well as the latest software versions. This, combined with new multi-lingual functionality introduced into the application, supports BMJ's plans to launch the service to other regions and markets around the world, allowing the organisation to effectively grow its online reach and revenue.
Launch and beyond
Following extensive usability testing the app was successfully launched for both iOS and Android – offering a simple, speedy and safe way for students and medical professionals to make effective decisions around diagnosis and treatment, and so helping uphold the highest standards of patient care. This is reflected in the extremely positive feedback received to date:
"This is the best mHealth decision support tool I have found… Highly recommended for clinicians and academics alike."
"Amazing app, thanks!"
"Good tool for medical students on the ward, particularly as it's all available offline."
"The best thing ever created. Fantastic format for learning about all the different conditions, presentations, examinations and management."
Key services