Assessing the options
As an industry-leading publication, it's important that the experience delivered through the Pharmaceutical Journal is informative and engaging, in keeping with its brand position and the expectations of its audiences.
The PJ site had previously been hosted on a third-party enterprise platform, which was looking to migrate its clients across to a new Software as a Service (SaaS) model. Faced with this potentially significant change, the PJ took the opportunity to review both their requirements for the website and the technology options available, to identify the best possible solution for their needs.
Following a series of internal workshops and an extensive period of research into what similar organisations were doing, the Pharmaceutical Journal released an RFP to tender, putting this out to a wide range of organisations to ensure they could effectively assess all the major and many minor providers in the market, across open source, closed source and SaaS solutions.
Box UK impressed with their recommendation of WP Engine – an enterprise managed experience platform built on the WordPress CMS. Working with WordPress' open source and modular technology stack, the PJ could adopt, adapt or drop components as required, enabling them to maintain a modern look and feel while responding to new developments and emerging technologies.

Hosting the site on WP Engine also ensured enterprise levels of performance, security and scalability, drawing on the power of leading cloud hosting providers such as Amazon Web Services (AWS) and Google Cloud Platform (GCP). This flexibility additionally ensured that the PJ got the ideal solution for their needs, by enabling them to seamlessly swap to a different provider to further improve performance when required.
A high-quality user experience
The PJ had confidence that the Box UK UX&D could deliver the high-quality experience its users expected. The team began with a review of the existing content, to understand how this should be exposed to users to make important information clear, accessible and digestible, and accommodate the PJ's existing hierarchy of titles, issues and articles.
From this Box UK's UX&D consultants were able to define an Information Architecture (IA) that made content findable and searchable, alongside a range of custom components and templates to support readers in breaking down and absorbing large amounts of content, including complex scientific and practice-related information.
The team also took a mobile-first approach to the design of these components and templates, supporting the implementation of a responsive framework optimised for a range of devices – leveraging the benefits of a digital platform while ensuring the online magazine remained as attractive and engaging as the print version.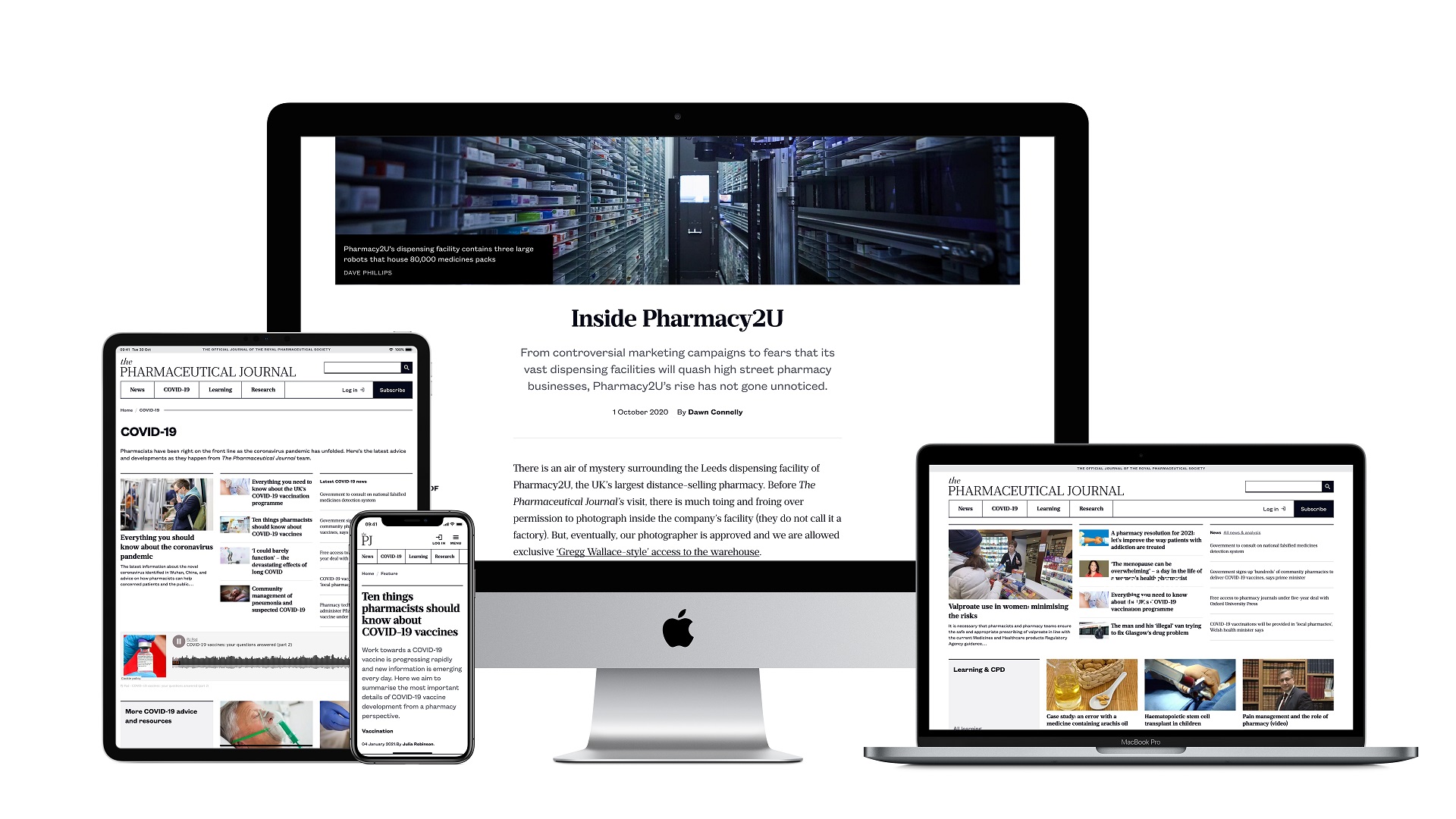 Migrating content and users
As a prestigious and long-standing publication, there was of course a great deal of content for the PJ and Box UK teams to manage. After an initial review of content items on the existing platform, the Pharmaceutical Journal identified tens of thousands of pieces to migrate to the new site, with Box UK providing support to the third-party engaged to conduct this migration to ensure all content was mapped across accurately.
Also requiring migration were the PJ's subscribers – numbering in their thousands – with a variety of different user types and associated permissions adding complexity to this process. The Box UK team worked to ensure these permissions were accurately mapped across so that users could access the correct content, including tracking and capping the number of articles that certain subscribers could read per month, and limiting specific article types to particular subscription levels.
Single Sign-On was also implemented to enable Royal Pharmaceutical Society members to access the journal from the main RPS site. The Learning Management System (LMS) LearnDash was additionally integrated into the site, to support the Continuing Professional Development (CPD) requirements of the RPS and its members.
Subscriptions and advertising
With a significant amount of the PJ's revenue coming through subscriptions, ensuring these subscriptions could be processed effectively and efficiently was of paramount importance. For this, Box UK's developers integrated WooCommerce Memberships, an ecommerce plugin providing a site-wide membership and subscription solution built specifically for WordPress installations.
The PJ site also features on-site advertising, to promote relevant services from across the Pharmaceutical Journal's product range as well as exposing benefits of Royal Pharmaceutical Society membership to drive sign-ups. The Advanced Ads plugin for WordPress was integrated to manage these requirements, and integrated with Google Ad Manager to ensure it worked seamlessly as part of the PJ's wider advertising infrastructure.
A powerful platform for growth
The new Pharmaceutical Journal site was launched smoothly and with no downtime – as part of WP Engine's sophisticated deployment process – and has received extremely positive feedback from subscribers and stakeholders.
Providing a flexible and user-friendly platform from which to deliver a wealth of specialist content, the new platform meets the PJ's key objectives of being able to prepare and publish content efficiently, and present this content in a modern, clean and easily-digestible way.
Box UK continues to work closely with the Pharmaceutical Journal to develop the platform, most recently implementing personalisation capabilities through the integration of LogicHop, to further enhance and add value to the end-user experience.
Key services