The challenge
The NHS Wales Informatics Services is the national organisation designing and building digital services for health and care in Wales, based on a 'Once for Wales' model that aims to streamline service provision and build capacity and economy of scale.
In line with this vision NWIS, on behalf of the CMS Implementation Board, asked Box UK to support them in consolidating the NHS Wales public-facing online presence – starting initially with 11 websites, each of which had a different structure, look and feel, and approach to delivery.
To ensure that the right, comprehensive insight was achieved before applying any findings, Box UK's UX consultants recommended breaking the project into two distinct phases of work. The first comprised a number of collaborative discovery activities to build a shared understanding of the current situation, before developing new design concepts for testing. Phase 2 would then focus on the creation of a content management toolkit to support the new site designs, supporting increased consistency and efficiency for the NWIS team.
Assessing the 'as-is'
To understand how the current NHS Wales websites were viewed and engaged with, Box UK kicked off the first phase of the project with a series of stakeholder workshops, capturing internal feedback on website performance, user behaviour and existing best practice knowledge.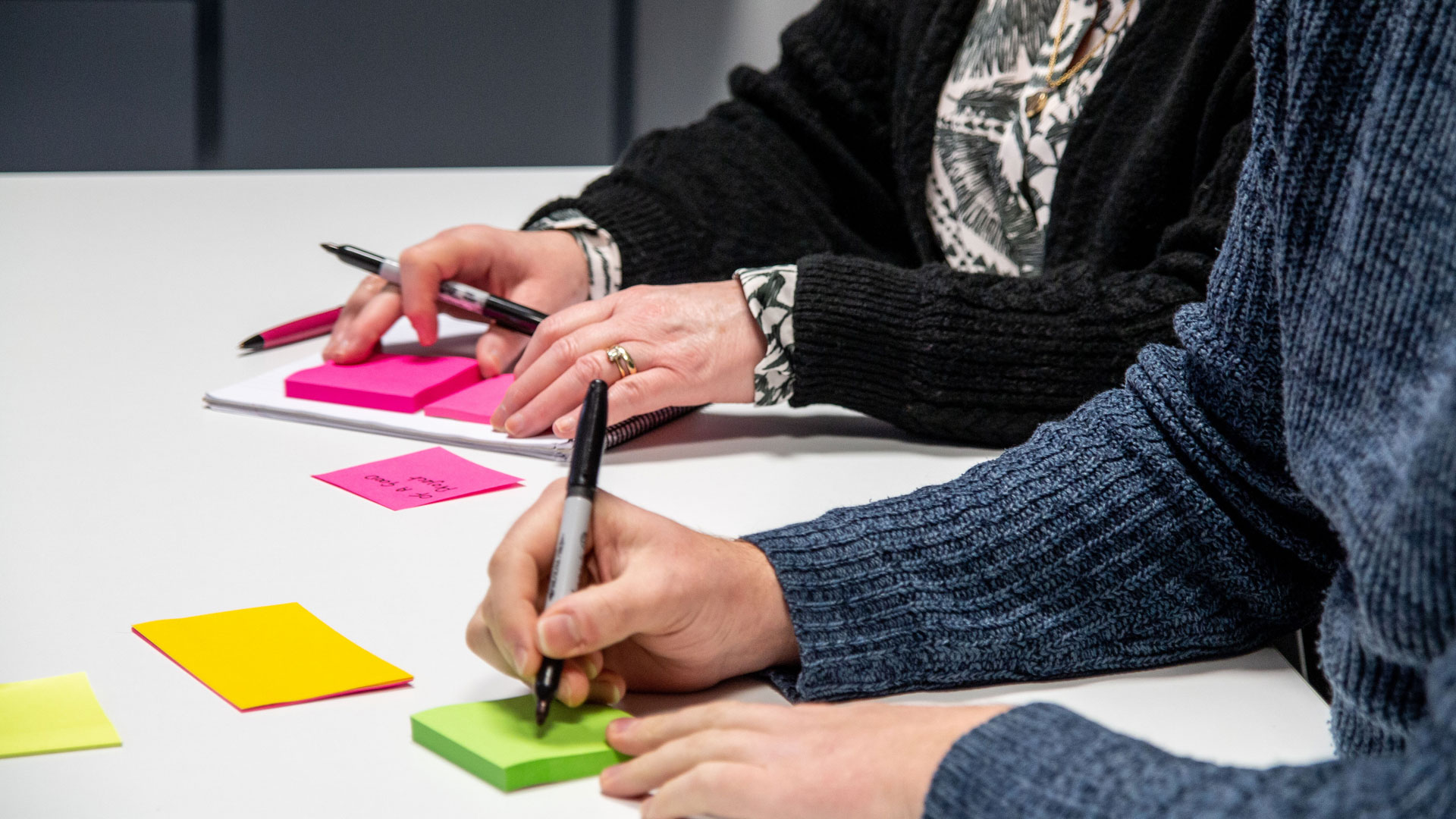 To enhance this insight, Box UK's consultants also went directly to representative users, conducting remote usability testing alongside an online survey that captured 490 responses. This approach ensured that valuable quantitative insight was captured to inform the updated design concepts, in a time- and cost-effective manner.
Finally for this research phase, heuristic and analytics reviews were conducted on the various websites, to establish existing levels of usability and identify key user journeys, pages and content. These activities revealed a clear picture of the 'as-is' situation, highlighting inconsistencies in approaches and styles, duplication of information, and supporting with evidence that there was not a mobile optimised experience for NHS Wales websites.
Developing new design concepts
From this insight, Box UK's UX&D team created new design ideas and a refined information architecture that addressed the identified challenges, and provided a clear and consistent approach that could be applied across the diverse health boards and trusts.
These concepts were developed through an iterative process into a series of high-fidelity designs that could then be put through user testing. A guerrilla approach was taken when testing these designs, involving members of the public to rapidly gather feedback. The non-selective nature of this technique was vital in giving NWIS the information they needed – almost anyone could have been a participant, just as they would be for a service such as the NHS.
Following presentation to and approval by the CMS Implementation Board, the final designs were translated into a series of flexible, reusable components that were delivered to NWIS for coding and implementation across the new NHS Wales websites.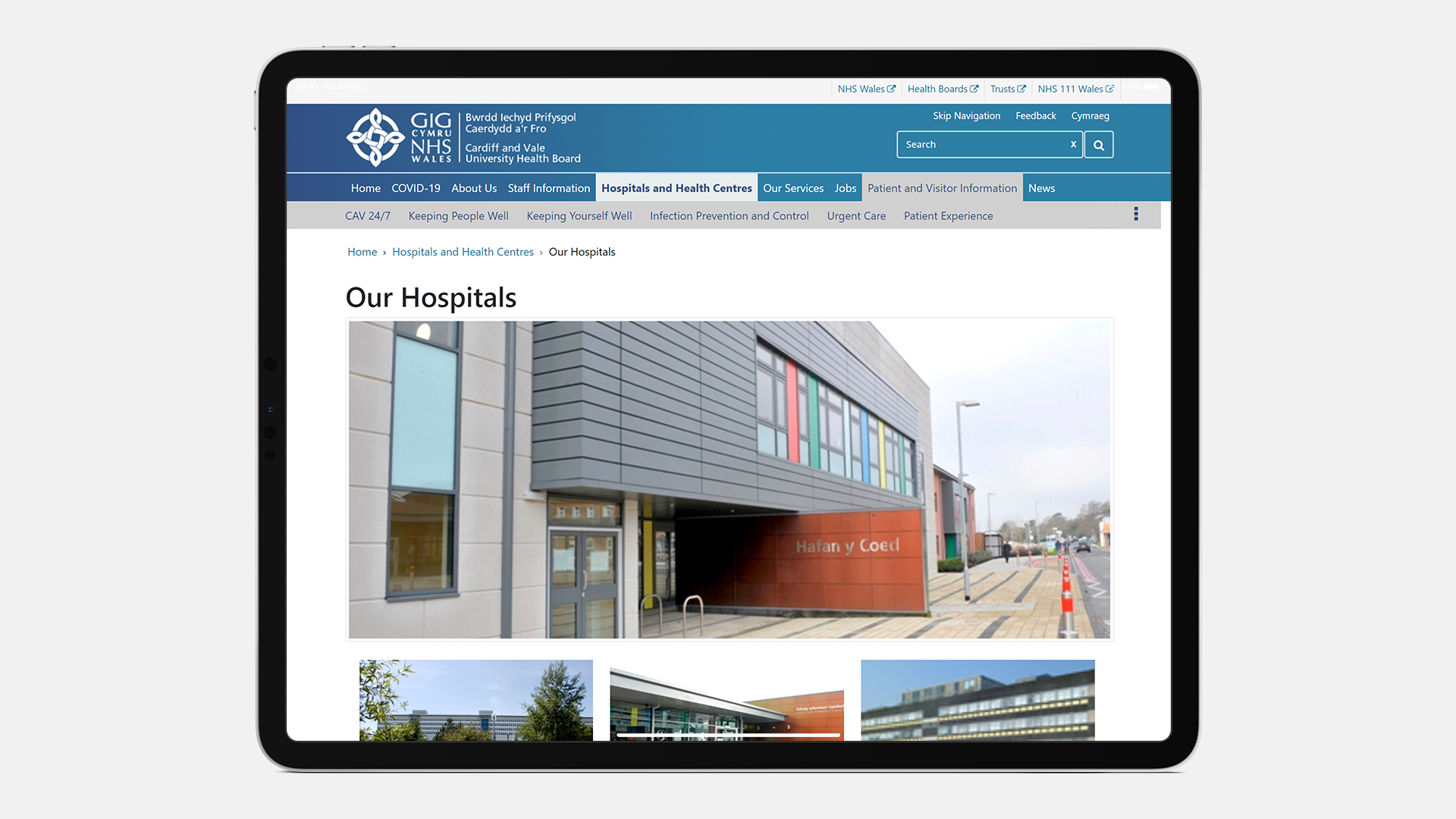 Supporting effective implementation
Having delivered UX design assets for the agreed user journeys, phase 2 of the project saw Box UK continue to work with the NWIS team on the iterative testing of its implementation, conducting regular one-to-one, lab-based usability testing sessions. This enabled feedback and actionable recommendations to be continuously delivered back into the development cycle, ensuring that the best possible sites were evolved during the Alpha and Beta development phases and taken through to the live releases.
At the same time, Box UK's consultants also began working on a sustainable Content Management Toolkit for NHS Wales web content managers. Comprising a content "style guide" and editorial calendar, alongside a number of streamlined and simplified workflows for content creation governance, this toolkit provided clear guidance to support the client in creating useful, accessible and relevant healthcare content for its diverse and varied audience.
Transforming the NHS Wales web experience
This long-term project has created a consistent and engaging experience for website users, no matter how they interact with the NHS in Wales, taking forward the 'user-first' way of thinking for web-site design. Following the launch of the updated sites Box UK conducted a re-evaluation, confirming that the public find the new sites much better and easier to navigate than the sites they have replaced, while further external accessibility testing has ensured that both the website and architecture of the sites meet the needs of users with disabilities.
Key services