Identifying the issues that matter
To ensure the finished solution effectively served the needs of the RCN's members and other stakeholders, the project began with a bespoke software consultancy phase. Conducting discovery activities to gather feedback from across the organisation alongside analysis of the site's usability, functionality and underlying architecture our consultants uncovered a number of areas of focus including:
Consolidating the Royal College of Nursing ecosystem, which covers numerous sites with multiple content editors and workflows
Managing the wealth of content offered online – which comprises over 30,000 pages and documents – to increase findability and direct users to additional relevant information
Determining the most appropriate multi-channel strategy as the RCN's mobile traffic continues to grow
Aligning the member experience with member needs
This was accompanied by a comprehensive user research phase combining end-user workshops, surveys and analytical reviews, which revealed:
User needs, behaviours and usage contexts
Any associated design and development considerations
Key pages and tasks across the site
This information not only provided the RCN with a clear overview of their target audience, but it also highlighted those high-priority user journeys for our User Experience (UX) consultants to look at in more detail.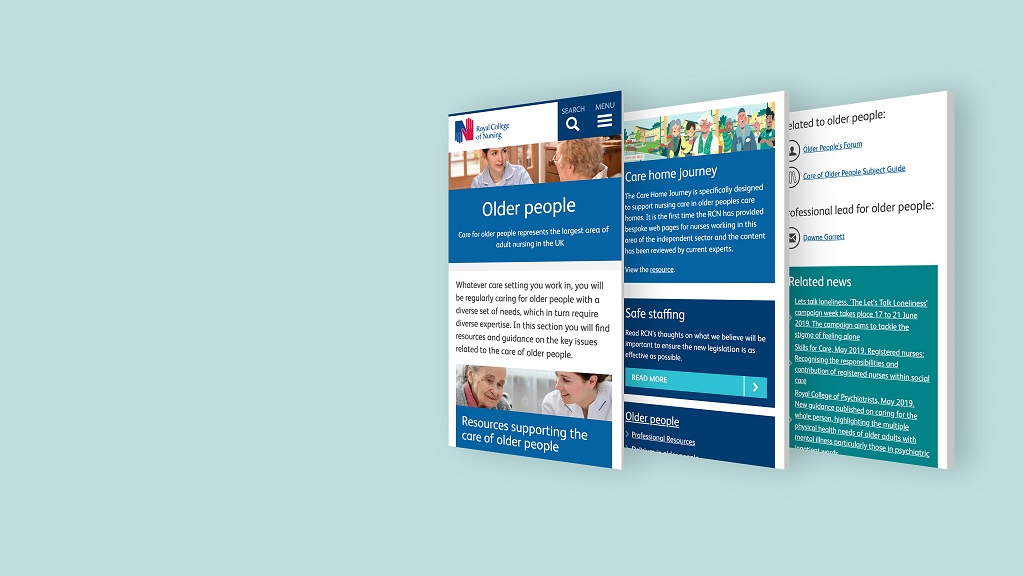 Technical innovations
To help the RCN remain a vital community resource both now and in future, we also provided technical advice on extending and enhancing their digital member services. This included demonstrating personalisation capabilities that would enable users to more easily access information relevant to their role, location and interests – with the Sitecore Experience Platform proposed as the technology that would underpin the new RCN platform there was great potential for exploration in the area.
Keeping the user front-and-centre
Together, these organisational, user and technical requirements signposted a programme of work that would enable the RCN to achieve its strategic goals – providing a clear picture of what was required alongside the likely budget and timescales. We then set about building the platform, using iterative Agile scrum methods to provide the client with visibility of what was happening at all times, and enable development to remain aligned with current stakeholder requirements and market conditions.
It was vital that the RCN's users and their needs remained front-and-centre throughout this process – so a beta version of the site was introduced at the RCN's annual Congress event to give members and other representatives of their target audience a sneak peek at progress. Having direct access to real-world users also provided us with the opportunity to conduct usability testing and gather insight that would inform further work – creating a cycle of feedback and development that continued as the platform was soft-launched through to the full launch and accompanying publicity campaign.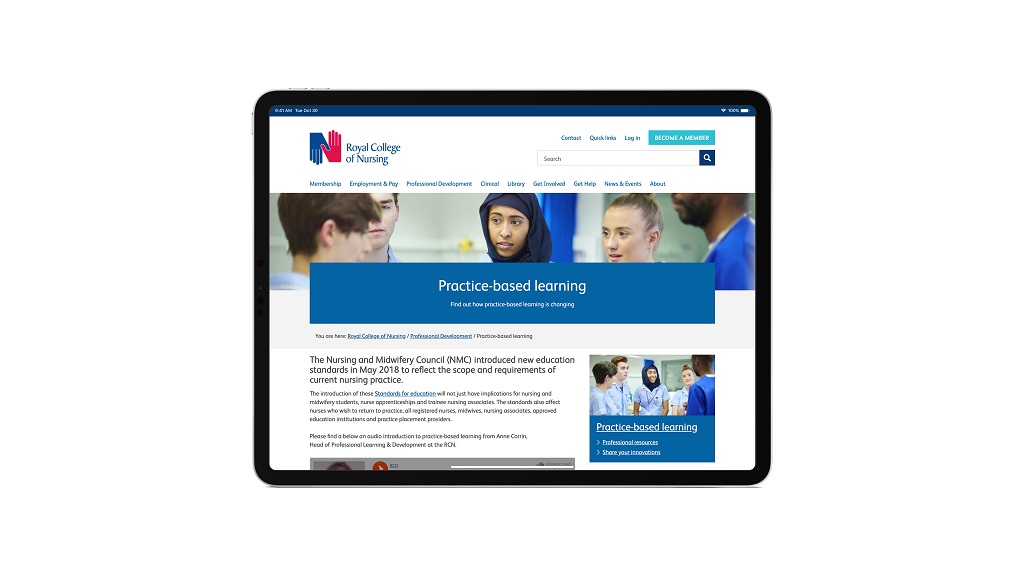 These testing periods were invaluable in confirming we were on the right track, with the site receiving excellent usability test scores alongside exceptional user feedback:
"Massive improvement on looks and ease of navigation"
"It's a big improvement on the current website. It's crisp and clean. It's less cluttered than the current site. It's engaging and colourful, and still looks professional. It conveys the right image."
"I like the design and format style of the website – I feel it to be user friendly in terms of searching for information – multiple search and filter boxes will work well once all the information is available."
"Great look and feel. Easy to navigate. Amazing how you've taken a huge content site, and structured it in a well laid out way"
"Great! Straight to the point. Beautiful on phone and iPad. Well Done."
"Loving the potential for controlling my information"
A total transformation
Not only has the new platform totally transformed the RCN digital experience – elevating it from a passive information resource and support service to a dynamic, real-time network of engaged care and nursing professional – it has also strengthened the RCN's ability to achieve its core goals. By facilitating innovation, education and collaboration, as well as informing and shaping policy to build a stronger nursing profession for the future, it has helped set a benchmark in the industry and provided the RCN with an incredibly strong foundation from which to continue to expand and enhance its member services.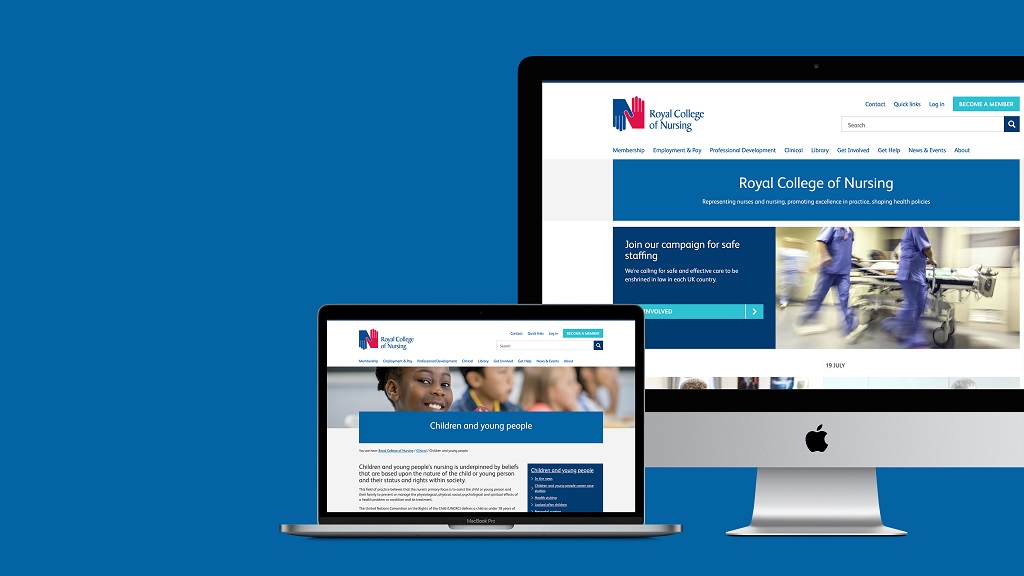 The member experience has been dramatically improved in a number of ways too. Before, current and prospective members' experiences with the RCN were spread across multiple microsites – all with different branding that contributed to a diluted experience – and over time the main site had become cluttered and difficult to navigate. Now all information has been brought together into a single platform, presenting users with a consistent, coherent brand experience, while UX and industry best practice has been followed to increase the findability of content.
Users also benefit from a much more modern interface – meaning a cleaner and clearer experience – as well as content that's been analysed and prioritised so that the highest-demand information is now more easily accessible. A new content strategy has also been put in place to not only manage the volume of content going forward but the way it is written too, helping further strengthen consistency and accessibility.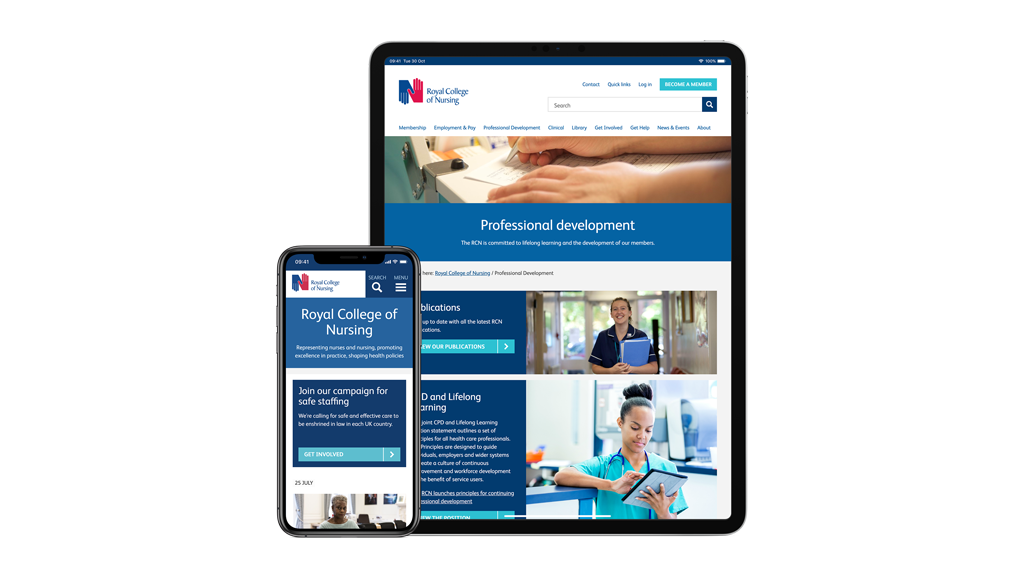 And as well as making life easier for members, the new platform has also empowered content editors and subject matter experts – providing them with a world-class content management system, and new processes more closely aligned to visitor needs. Through the use of the Sitecore Experience Platform, with an admin area customised by Box UK, RCN staff now have access to powerful tools, templates and content types that enable them to more easily communicate ideas and insights, and better engage the nursing community.
Key services