Raising $2 million in a matter of months to fund entrepreneurial projects in developing countries across the globe.
The client
World Vision US is part of World Vision International, a Christian relief organisation operating across nearly 100 countries tackling the causes of poverty and injustice to help the 100 million people they work with reach their full potential.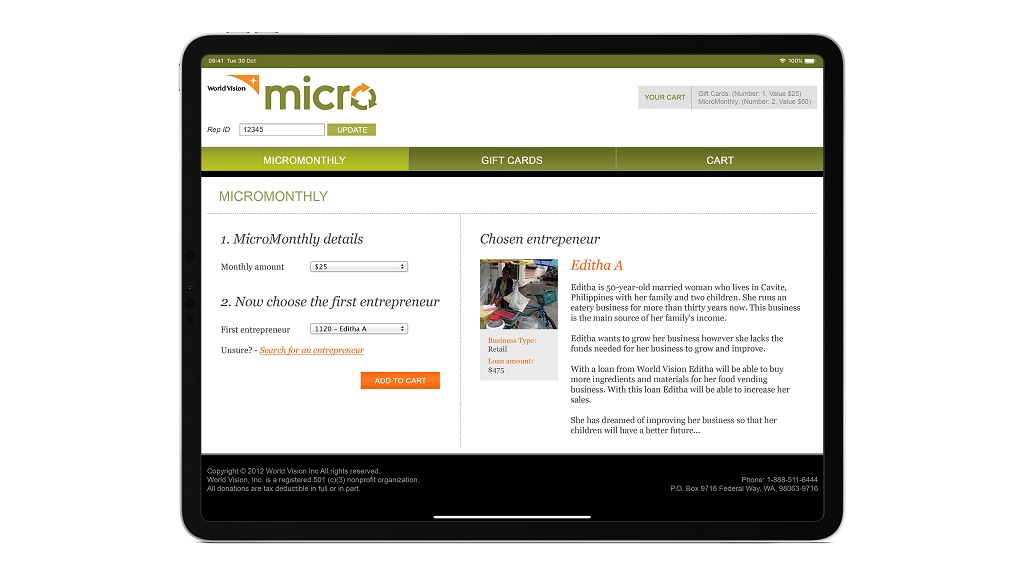 The Micro initiative is an innovative scheme providing users with an alternative method of donating online, by funding small loans to hardworking men and women in developing countries with ideas for businesses. This method of giving supports the charity's wider aim to change thinking regarding overseas development.
The challenge
The success of Micro, one of World Vision's innovative projects to increase the volume and diversity of donation channels available to their users, encouraged the charity to make the system available to international World Vision branches. This required bespoke development work be undertaken on the basic codebase in order to make it a suitable foundation for widespread adoption.
Our solution
Operating in two-week sprints the Box UK team developed the existing underlying architecture of the system to provide the necessary scalability and support for the cloud, and to make a stable, reliable and high-performance framework available to every local branch of World Vision. Additionally design work was required for several elements of the Micro site; these needed to be clear and visually interesting in order to persuade visitors to donate and encourage regional branches to sign up to the initiative.
It was crucial that a successful remote working relationship was achieved between the World Vision US and Box UK teams. An Agile methodology was therefore employed on the project; this approach encouraged regular communication via email, video meetings, conference calls and through the delivery of frequent working releases. These were demonstrated to the charity regularly, enabling their feedback to be continually incorporated throughout the development process.
The outcome
The US microfinance project has seen incredibly positive results, receiving 24,772 donations totalling nearly $2m since launch. These loans make a huge difference to people in poverty, providing a sustainable way for them to support themselves, their families and communities.
The globalisation project has taken this innovative concept and extended its reach, allowing the charity to further their core goal of increasing the funding available for entrepreneurs in developing countries. Feedback from World Vision has been extremely positive, with several national branches of the charity already expressing a strong interest in adopting the system.
Key services