Emerging technologies 2016
The end of the year is a great time to take stock of events from the previous 12 months, and look ahead to what may be in store for the year ahead. And that's exactly what we did last December with our tech trends predictions post. But with 2016 nearly behind us, how many of our predictions came true? I surveyed some of our team to find out:
Customer Experience/Omni-Channel Engagement
We've batched up these two predictions as it became clear throughout 2016 that organisations will only continue to thrive if they provide an exceptional end-to-end experience – one that delivers consistency and relevance across every touchpoint the user is exposed to in the course of their journey.
This has been driven, in large part, by the continued disruption being wrought in traditional industries by innovative, disruptive new players. Born in the digital age, these organisations are typically able to leverage customer data and new platforms so effectively that the experience is valued as much as the product or service being provided.
As a result, organisations of all shapes and sizes are seeking to personalise and humanise their interactions with users in order to keep up with the competition, and indeed today 94% of marketers agree that "personalisation of the digital experience is critical to current and future success". We've also seen efforts to improve customer support offerings too, through increased social media presence and more locally-based service centres – highlighting how organisations are looking beyond the journeys a user takes within their site or app to encompass the full customer experience instead.
Design
One of our key predictions for last year was that material design would continue to grow in popularity, as an alternative to the flat design approach that had dominated previous years. While we haven't seen a complete departure from flat design (in fact, Instagram is a prime example of a popular app redesigned in 2016 with a flatter interface than ever), what we have seen are material principles creeping in. Take, for example, Tate, which launched a new look in June 2016. Though it seems primarily clean and minimal, there seem to have been design decisions influenced by the material approach, such as tabbed navigation, card-based layouts and large, capitalised buttons; even the 'become a member' circular button resembles the material floating action button.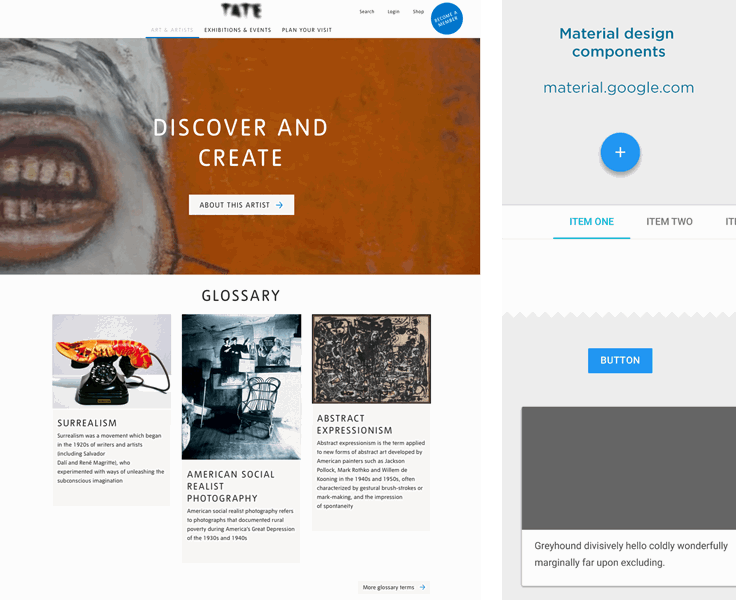 The new Tate website features many elements of material design
Technology
Big data only got, well, bigger throughout 2016; driven by services such as Uber and Deliveroo that need to track real-time updates of multiple people and organisations, and trigger immediate actions as and when required. Some of these organisations (such as Uber) have 'rolled their own' systems to manage this process, but enterprise providers like Amazon remain popular, thanks to data warehouse offerings such as Redshift.
While powerful development languages such as Haskell, Scala and Clojure have become increasingly popular in their own specific niches, this hasn't been to the detriment of big players like Java and .NET. Our prediction that interest in JavaScript will grow has also been borne out; systems like Google's AngularJS, for example, have adopted TypeScript (a superset of JavaScript) as their preferred implementation language. JavaScript itself also continues to evolve, with new standards such as ES2017 coming onto the market this year.
Wearable technology and the Internet of Things (IoT)
While there have been a number of interesting developments in the application of connected devices this year (see below), the smartwatch market – a key wearable focus – does appear to have plateaued in 2016. While there was growth, it was not as strong as predicted; Microsoft's second version of its Band watch was also discontinued, and Pebble is currently in the process of being bought out by Fitbit. However, this is still very much an emerging space, and with the addition of new features and a lowering of prices we may yet see wearable tech take off in a big way…

Microsoft's latest Band release has since been discontinued
Automation
As predicted, automation has been a hot topic during 2016. As businesses are driven towards a bottom-line imperative of removing cost, there has been a sustained quest to find opportunities to reduce headcount through the use of automation. Systems have also developed beyond the standard approaches of streamlining and automating business processes based on pre-set rules, as machine-based learning – and, to some extent, robot automation – have dominated top-end solutions.
Automation has primarily affected five business areas with large steps made across marketing, security, business process, storage and data – and as organisations work to bring silos together cross-functional exploitation will only drive further examples of effective automation in 2017 and beyond.
Telematics
A prime example of telematics being used extensively in 2016 exists in the retail vehicle insurance market, where providers have been able to more accurately calculate premiums through apps that monitor and measure on-going driving performance. To a lesser extent, too, telematics and big data combine to provide top-level sporting organisations with trend analysis that supports performance improvement. This has expanded into the retail market and – while smartwatch sales have slowed, as mentioned above – wearable telematic technology continues to make a significant impact on the health of individuals.
Importantly, as organisations have begun to combine the data they have available with personalised profiling capabilities these systems have become increasingly normalised, with many people willing to share information if it delivers greater value (such as the potentially reduced premiums on offer from insurance providers).

Aviva's "Good Thinking" drive challenge can help good drivers achieve lower insurance premiums
Security
Every week it's seemed that another company has had its security compromised in one way or another. Personal data continues to be treated almost with contempt by some major companies – TalkTalk, for example, was fined £400,000 by the Information Commissioner's Office (ICO) for "security failings" that enabled a teenager to gain access to customer data "with ease", while over a million German broadband routers were hijacked recently due to poor default security settings.
This infographic shows the scale of the problem; note just 12 years ago there wasn't a single data breach of this kind, while in 2016 there were so many you can barely read the names of the organisations.
It's unsurprising, then, that Security-as-a-Service (SECaaS) solutions have grown in popularity this year. Charging a monthly subscription fee to reduce cost burden for outsourced services, the SECaaS market is already worth $3bn and is showing no signs of slowing down – in fact it's expected to surpass $8bn by 2020.
Fintech
Financial technology, or 'fintech', has continued to grow significantly in 2016, and this has not gone unnoticed by the British Government. Indeed, they have recently pledged £2bn for R&D and innovation initiatives in the sector, to keep the UK "leading the world in disruptive technology" – highlighting how important they believe it could be to the British economy.
Enjoyed these predictions? Keep an eye out for our 2017 trends forecast coming out early next year.