Doctor Who, what, where and when? The BBC now has all the information they need around interaction with their online adventure games.
The client
The Doctor Who Episodic Game Initiative, commissioned for BBC Online and driven by BBC Wales Interactive, is part of the BBC's campaign to increase computer literacy amongst those who aren't regular net users. Doctor Who: The Adventure Games comprises 4 interactive downloadable computer games, in which players assume control of the Doctor Who characters and embark on online adventures.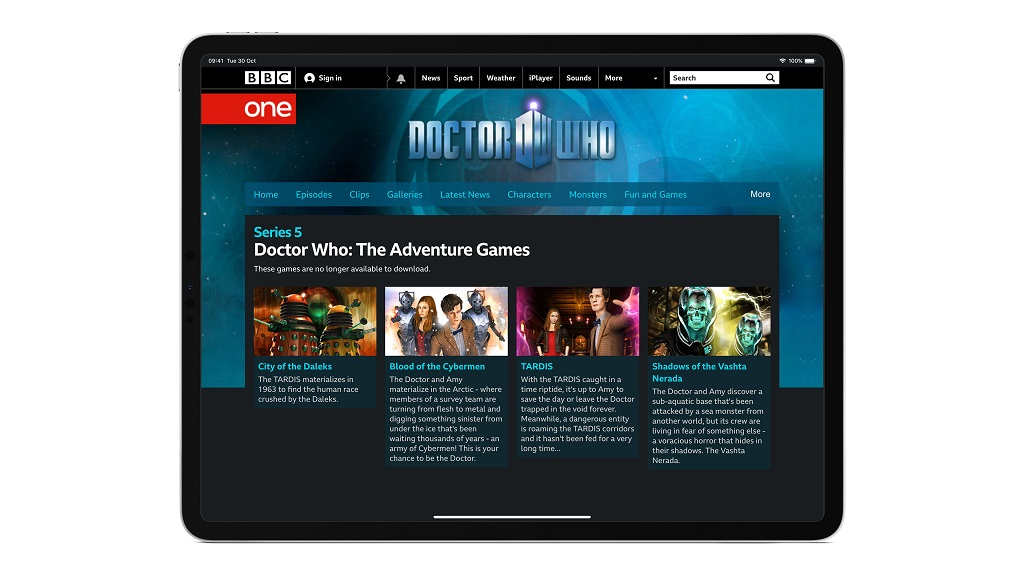 The challenge
BBC Online undertook production of a downloadable game to complement the Doctor Who TV series, consisting of four interactive episodes. Box UK were called upon to undertake the bespoke development of a web application to integrate the game with the BBC's existing systems and act as the single point of communication across online BBC components.
A further requirement was the design, development and implementation of a reporting tool to tie in with the game and capture its progress data, in order for the BBC to monitor game use. It was very important for the BBC that a flexible approach be taken to this project, allowing them to be involved with development throughout the duration of the work and change its direction if necessary.
Our solution
Once the project's key technical requirements had been set, an Agile management approach was adopted, which involved splitting the project into short two-week 'sprints', enabling our team to take a flexible approach and modify their processes as requirements changed. Using this iterative system, Box UK developed services to communicate with various BBC systems, which were integrated as a single bespoke application, along with a reporting application for BBC administrators to view graphs displaying gameplay statistics. High levels of performance were crucial to cope with the expected traffic as a result of the many call to actions implemented by the BBC.
The outcome
After full testing, the games were integrated successfully into the BBC's online space. Box UK's analytics application allows the BBC to track game usage, analyse how the game is being played, and modify their promotion accordingly. It also allows the client to observe how successful the game is; since this was the first BBC online game project on this scale, it was crucial that it be tested in order to allow the BBC to continue to produce these innovative projects.
Key services