Helping the Trading Standards Institute make life easier and quicker for businesses.
Educating businesses nationwide
The Trading Standards Institute (TSI) has developed the business companion website as part of its national Business Education role. Undertaken on behalf of the Department for Business, Innovation & Skills (BIS), the site is designed for all sizes and types of businesses, from individuals and start-ups through to SMEs and enterprise organisations.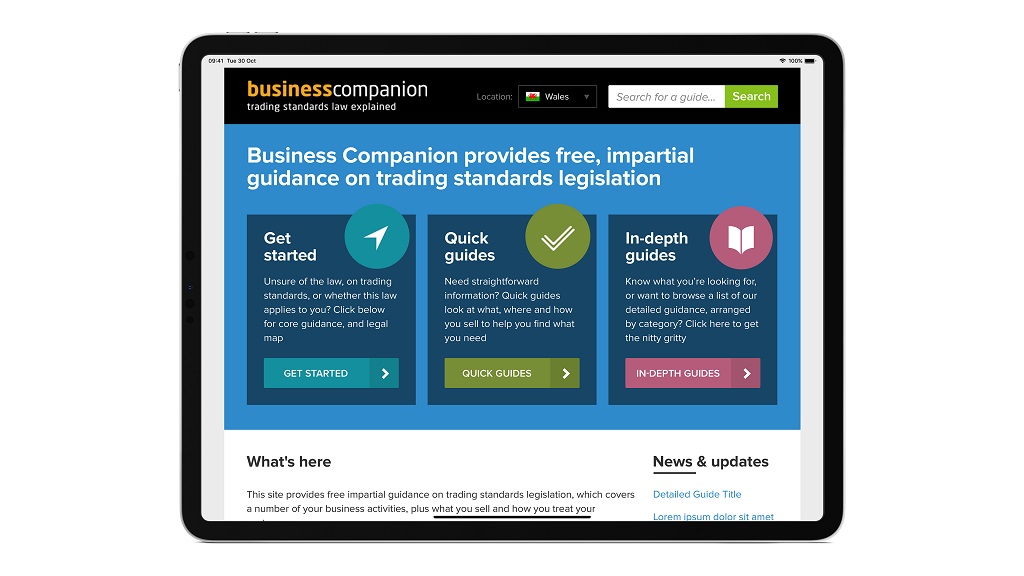 Therefore, TSI needed to grow their information, advice and education programme in alignment with a review and restructuring of their content strategy aimed at better helping these businesses understand what's required of them.
A powerful platform
With its existing legacy systems (developed over a period of time) delivering content to individual targets, TSI lacked an enterprise-wide integrated platform to effectively maintain, manage and deliver its full range of business and consumer protection information to multiple channels simultaneously. Our first step therefore was to implement the Sitecore Experience Platform, which provides the accessibility and flexibility needed to meet the demands of their various audiences and functions as well as supporting TSI's stringent content verification and approval processes.
The right user experience
Selecting the right platform was just part of the solution. While some visitors to the site may know exactly what they're looking for many don't, especially when it comes to highly specific legal information, so it was vital to make browsing and searching the front-facing repository as simple and intuitive as possible. Our consultants worked with TSI to identify and create the right kind of user experience, so that visitors could not only quickly find the information they wanted, but be directed to additional content tagged as being relevant to them.
Safeguarding economic success
Developed and released to tight deadlines and budget, the new system enables TSI to serve businesses across the country with educative content, helping minimise instances of non-compliance; an important quality indicator for the state of the industry as well as a key objective for TSI. Our work has helped facilitate a successful, vibrant and modern economy by supporting those businesses that are the lifeblood of the country.
Key services